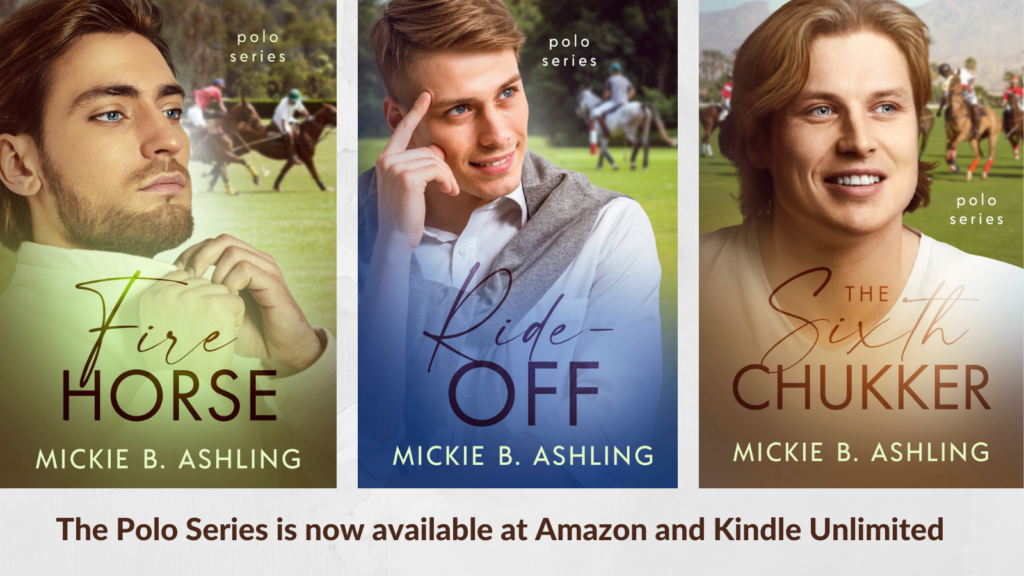 The entire polo series has been re-edited, and is now available at Amazon and free to read with a Kindle Unlimited subscription.
Fire Horse: Polo #1
Childhood friendship. Adolescent longing. Adult passion. Is their timing finally right?
Preston Fawkes is ten the first time he meets Konrad Schnell, the fifteen-year-old rising star of the San Antonio Polo Club. Captivated, Pres vows to learn the game at the hands of his newly acquired friend and mentor, even though his rancher father disapproves.
Konrad Schnell is also a rancher's son, but his parents see their son's full potential as a high goal polo player and do their best to give him every advantage. But Konrad has a secret that could jeopardize everything. He's a gay man living in the heart of Texas and his parents—and everyone in his world—would disown him if he were to come out.
Preston's hero worship soon grows into something deeper, but the friends are separated when thirteen-year-old Preston goes off to boarding school in England. When they reconnect three years later, they finally get to explore their true feelings. As adolescent passion turns to adult realities, they face new consequences at every turn. When the stars seem about to align and they're ready to begin their lives together, fate alters their plans.
Will they remain star-crossed forever or will destiny bring them back together?
Ride-Off: Polo #2
Finally reunited, Preston Fawkes and Konrad Schnell put family and obligations aside, preferring to remain in seclusion on Ned s estate to get reacquainted. Unfortunately, reality can only be held off for so long, and they return to Texas to reclaim the life they put on pause. Trying to strike the right balance between business, family, and romance requires ongoing effort, and the challenges begin shortly after they arrive.
At the top of the list is Bandi, Konrad s son, and his desire to play polo. A close second is Sasha Fawkes, Preston s actor son who is struggling to succeed on Broadway. And last, but certainly not least, is Paloma, the fiery Argentinean beauty Preston sired after a passionate tango with a rivals wife.
Blending the interests and needs of three grown children is difficult at best and almost impossible when agendas collide and old secrets are unearthed. The situation comes to a head when the family gathers in San Antonio for Thanksgiving, throwing Preston and Konrad into a maelstrom they must weather as best they can, or they ll face a major ride-off that could throw the game before it even starts.
The Sixth Chukker: Polo Series #3
Retired polo players Preston Fawkes and Konrad Schnell have finally found the happiness that eluded them for years. Their stud farm is a big success, and their marriage couldn't be healthier. Unfortunately, this idyllic life is disrupted by several unexpected sources.
Paloma, Preston's twenty-one-year-old daughter, is determined to be a 10 goal player before she turns thirty. Bandi, Konrad's son, dreams of starting a family with his husband, Ned Temple. Paloma offers to surrogate if her father and stepfather come out of retirement and team up with her for one season.
Preston and Konrad would do anything to make their children happy, but they're confronted with a stumbling block. Trauma specialist Dr. Rayne Carlisle refuses to sign off on the necessary paperwork unless Preston agrees to his outrageous demands.
Caught between the proverbial rock and hard place, Preston and Konrad deal with disgruntled former lovers, demanding children, and old enemies in this sequel to Ride-Off